Moving more with bikes
With a boom in cycling and grants available from Travelwest for businesses to buy an electric cargo bike, we're due to see more of these on the roads. Grant details can also be found on the Energy Saving Trust Website: https://energysavingtrust.org....
Bristol's clean air zone and closure of the old city to cars are certain to accellarate the move using these pollution reducing transport solutions. Some can move up to 1/4 of a tonne of goods or lighter versions are ideal for a big shoping trip, or simply move a child or two.
Bike Bristol's new e-cargo bike!
A big thank you to Travelwest for a grant to buy this as part of thier initiative to reduce van usage by businesses. See more about their grants here: https://travelwest.info/for-bu...
*We don't currently sell cargo bikes - prices below are for the purposes of reviewing*
See refurbished cargo bikes at Nine Lives Cycles! https://www.ninelivescycles.co...
Cargo bike news:
https://cyclingindustry.news/e...
"This report also finds evidence that e-cargo bikes have the potential to revolutionise first and last mile travel and logistics, replacing up to a quarter of commercial deliveries in cities, 50% of commercial service and maintenance trips, and 77% of private trips (e.g. shopping, child transport),"
Small load cargo bikes
Urban Arrow - Shorty - around £4000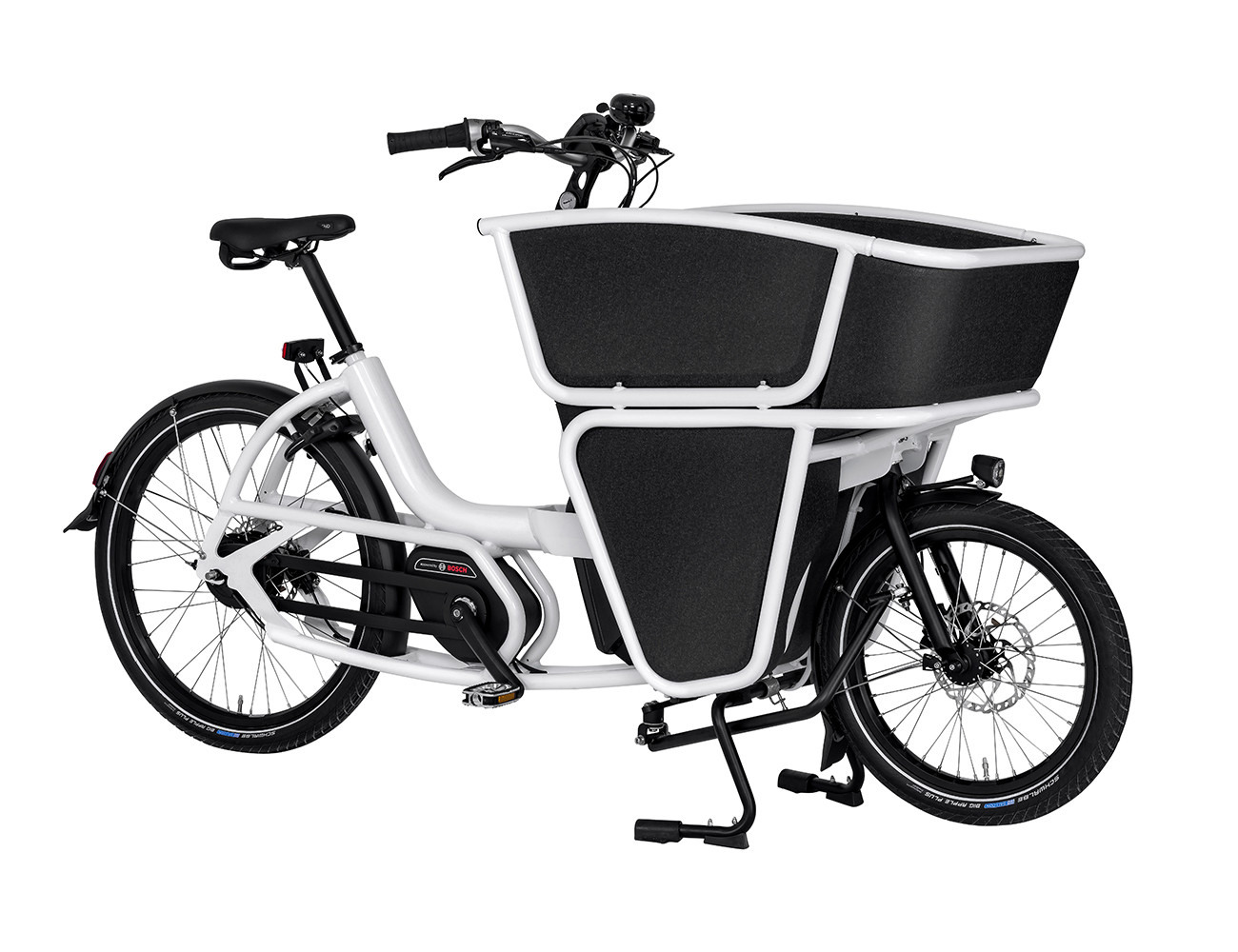 Nimble, versatile and yet incredibly powerful the Shorty is an excellent option for transporting cargo. With it being roughly the same length as a regular city bike, the Shorty's load capacity surprises many.
Choose from either an Enviolo hub or a Shimano groupset or The Rohloff Speedhub 500/14 as gearing options. A box divider can separate compartments in the box, and a lockable hood effectively waterproofs the box.
With a maximum gross vehicle weight of 190kg, can take up to 150 litres of volume and 85kg max cargo weight, the Shorty is the ideal short utility vehicle. It is perfect for the urban multitasker and can be the solution for your valuable deliveries, much needed accessories or working equipment.

Don't forget Trailers!
Trailers are a practical way to carry a lot of gear without the need for a bulky (and often expensive!) cargo bike.
See reviews at https://www.cyclinguk.org/cycl...
Medium load cargo bikes
Urban Arrow Cargo (XL pictured below) comes in 3 sizes
The Cargo XL (above) loading capacity lies between 300 and 620 liter depending on the type of box you choose.

Weight bike 52Kg
Outer dimensions L 294cm x W 70cm x H 110cm
Platform size L 94cm x W 70cm
Max total weight 250Kg Bike + rider + load
Max front load 125Kg
Max rider weight 125Kg
Max rear load 25Kg

https://www.urbanarrow.com/en/...
Ridgeback E-Cargo - £3799.99
Want to take everything and the kitchen sink as well? We have it covered.There has never been a better time to ditch the car. Our E-Cargo bike uses Shimano's range topping STEPS E8000 system with a smooth 250w drive unit offering up to 70nm of torque this system offers you a powerful pedal assistance even when carrying the heaviest of loads. This means no matter what you have to move or what distance the E-Cargo will be able to rise to the challenge and get the job done. Backed up by a large battery with a total capacity of 504wh and quick charging time of only 5 hours and a possible range of up to 100km this makes the E-Cargo the perfect alternative to the car for the weekly shop or for inner city deliveries...

https://www.ridgeback.co.uk/bi...
Riess and Muller - Load 75 - from £6,119.00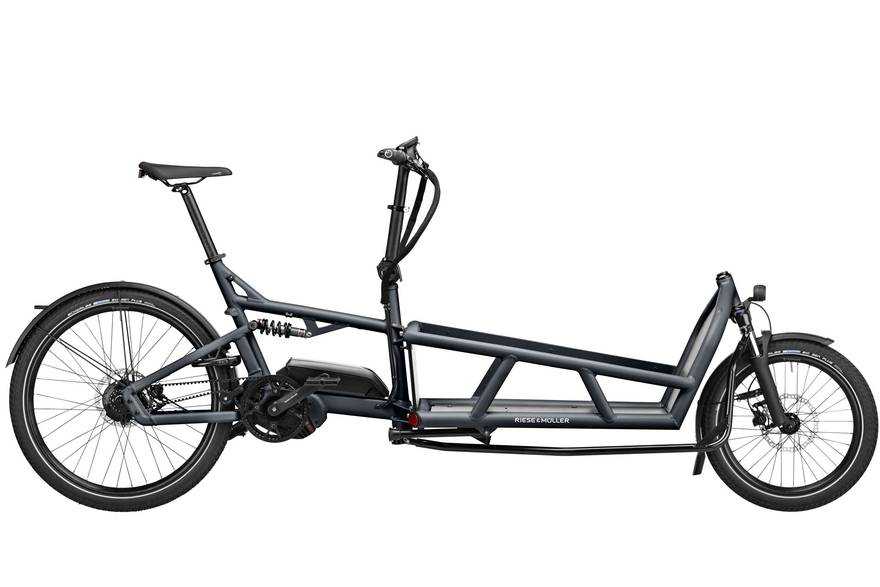 Feel the wind in your hair, enjoy the speed, quick stops and fast starting. And take as much with you as you need. This is what freedom feels like. With its low centre of gravity, Riese & Müller Control Technology and a huge loading surface, the Load 75 combines riding dynamics and load options, like no other E-Cargo bike. The strong, latest-generation Bosch Performance CX motor delivers hitherto unknown power. And the Load 75 is also extremely reliable, thanks to its high-grade components.

Raleigh Bikes


We are delighted to offer our E-Cargo bikes helping make sustainable, zero emission deliveries part of everyday business. There are many reasons why E-cargo electric bikes are a great investment for business, whether transporting items between sites, making last mile deliveries or as a replacement for commercial vehicles, an e-cargo bike is versatile, efficient and low cost.
https://www.raleigh.co.uk/gb/e...

Large load cargo bikes
MovE Cargo Bike
By far the cheapest large capacity cargo bike we could find.
Measurements:
– L: 2,25m W: 0,9m H:1,1m
– Weight: 55 kg
Carefully designed steel frame that can carry:
– 200kg
Backbox in aluminium to lower weight, with a lockable inner box
that contains the battery, and can hold smaller items
Quality electric motor system with a 36V, 15,6Ah, amounting to 25Kmh / 30-50Km range, depending on conditions and range.
£2495 from Sanitov: https://sanitov.com/product/ca...
The e-cargo trike by Icenci

E-CARGO TRIKE AVAILABLE FROM £10,050
Cycles Maximus
https://www.cyclesmaximus.com/
Electric Version £7540 ex VAT
Rad Power bikes
https://radpowerbikes.eu/pages...
Maxpro worldwide
http://pedicabshop.com/cargo-b...
See more reviews here https://electricbikereport.com...
Cargo Bike Brands
Rad Power Bikes: https://radpowerbikes.eu/colle...
Riese & Müller models.
We've reinvented the wheel – time and time again. Constant optimisation results in outstanding E-Bikes. For athletes, commuters, families, bike tourists, tradesmen, and for everyone who simply loves cycling. There's no such thing as one E-Bike for everyone – but for everyone there is one E-Bike that's right. And to find that ideal bike more quickly, you can filter our bikes according to your needs.
https://www.r-m.de/en-gb/bikes...
Pashley: https://www.pashley.co.uk/news...
Specialist cargo bike shops:
London: http://flyingdutchman.bike/
Links
Custom E-cargo fleets for businesses: https://e-cargobikes.com/