Sessions for schools or other groups
Cycle training was developed to teach children to cycle and is delivered widely in schools. This "Cycle Skills" course has been developed to suit school groups, scout groups or home education groups.
Our courses are all about developing skills in order to have the confidence to ride safely, whether in the park or on the road!

Sam who delivers the training is a qualified DfT NSIQ cycling instructor, find out more on the About Page!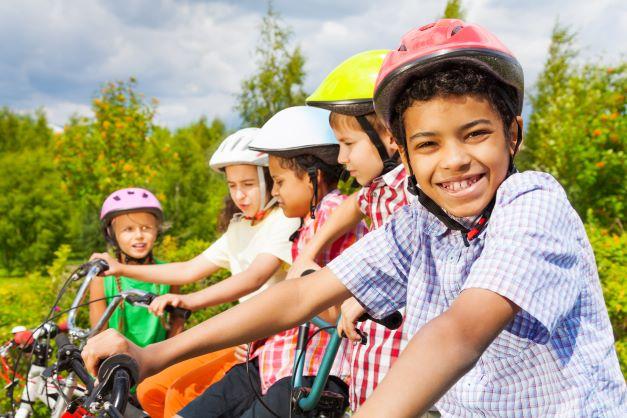 Level 2 Cycle Skills course
The Level 2 course (Level 1&2 combined) is 8 hours long and will give children the confidence to cycle safely on quiet roads. There will be the opportunity to ride on roads with moderate traffic if the group's ability allows.

The course is for groups of 3-6 children

Level 1

The first stage involves training off-the-road in the playground or in the park; practicing signals, braking and gears. The group should have excellent bike control before going on the road. This course enables children to build up their riding ability and develop confidence. This session takes 2 hours.

Level 2

Level 2 is out in the road and takes the remaining time (6 hours). This course is founded on the Department for Transport's National standard for cycle training.
We will teach the skills required to make simple journeys on quiet roads, moving onto junctions as they develop. They will develop their awareness and understanding of traffic, allowing them to make good decisions. They should be able to make short journeys on quiet roads without supervision, giving them the potential to ride to school or to see friends.
Note: participants need to complete Level 1 before moving onto Level 2 and it's possible not all will have the required control. We can arrange a 1-to-1 session if required for anyone who thinks they may need extra support.
Beyond Level 2

Level 3 course

Level 3 is for older children, and adults (9yrs+).
Depending on their progression we will be able to discuss and show them busier roads, perhaps we can work on their school journey or look at how they would navigate busy roads near home. This is the highest level, allowing them to gain the confidence to ride on all sorts or roads and know which areas to avoid! they will have to have completed Level 2 to start this course.
The course will cover the basics of cycling and move through three levels, including on road training in traffic.

Booking
The Level 2 course is 8 hours and can be arranged as either
5 x 1.5 hour sessions
4 x 2 hour sessions
A Level 3 course can be arranged as a one off 2 hour session.
Price
Cost is £60 per hour total (regardless of group size) or £480 for the whole 8 hour course.
For example, for a group of 4 it would work out at £15 per hour, per child (£60/4) or £120 per child for the whole 8 hour course.
The course is for groups of between 3-6 participants