Let's create Liveable Neighbourhoods for Bristol
What are Liveable Neighbourhoods?

The Liveable Neighbourhoods campaign is underway in Bristol! Would you like cleaner air, safer roads and neighbourhoods that are quieter and friendlier for people?

These are the goals of the campaign. Something needs to change to help our streets become better places for all kinds of people, not just for vehicles.
News Sept 27th 2022:
I'm impressed with the Bristol City Council Liveable Neighbourhood creation tool. You can add various measures such as wheeling/cycling only filters (bollards) to see the resulting traffic situation. I've had a play with the Beaufort Rd area and seen how modal filters (permit cycles etc, but not cars) could permit resident's access while preventing it being a 'through route' (rat run).
This could be an important step to reduce speeding, pollution and make the residential streets a nicer place to live!You can attend a meeting or use the online tools to sublim your ideas. Here's the design tool:
Beaufort Rd: Click here to view design tool

Barton Hill: Click here to view design tool
Community led plans could help transform areas for the benefit of those walking, on bikes, mobility scooters, using prams, e-scooters etc etc. Access will be maintained in most cases for vehicles to access homes, but simple measures such as modal filters eg. Flower planters, can be installed in a road to reduce rat running and speeding, with a priority for those living on the road to enjoy the space.
NEWS: (Sept 2022) "Today sees the start of the co-develop phase of the East Bristol Liveable Neighbourhoods pilot. "This involves working with the local community and stakeholders to decide how a range of potential measures can help achieve a better balance for how local streets are used for transport and people.
"We are running a series of workshops in September and October where we're asking for your views on how these solutions could be used to help shape your Liveable Neighbourhood. The workshops are drop in and should take around 20 minutes to give your views. Please see below for the dates and times:
St George Community Centre on Tuesday 13 September from 9.30am to 12.30pm - book now https://eastbristolliveableneighbourhoods.commonplace.is/...
St George Community Centre on Saturday 17 September from 1pm to 4pm - book now
Barton Hill Settlement on Friday 23 September from 12.30pm to 3pm - book now
St George Community Centre on Tuesday 27 September from 2pm to 5pm - book now
Barton Hill Settlement on Saturday 1 October from 9.30am to 12.30pm - book now
St George Community Centre on Sunday 9 October from 1pm to 4pm - book now
Barton Hill Settlement on Monday 10 October from 1.30pm to 4.30pm - book now
We're also holding an online workshop each week in the evenings for people who can't make any of the in-person workshops.
Book now for the following dates:
Thursday 15 September from 6pm to 7.30pm - book now
Wednesday 21 September from 6pm to 7.30pm - book now
Tuesday 27 September from 6pm to 7.30pm - book now Monday 3 October from 6pm to 7.30pm - book now
See the councils Liveable Neighbourhoods strategy here
"In Bristol, the busy traffic in our streets causes noise, pollution and danger.

But there's a better way, and it's tried and tested – Liveable Neighbourhoods.
These are residential neighbourhoods that contain traffic filters to stop cars, vans and lorries using the streets as rat-runs. Residents can still drive to their homes, residents and businesses can still get deliveries, and pedestrians and bikes can get through freely.
In Liveable Neighbourhoods, the resulting reduced traffic has many benefits. Air quality improves. So does road safety. There is safe space for play areas for children, and room for outdoor seating for businesses. Tree-planting and landscaping can be done, making the streets greener and more pleasant.
Photo by Smith Maloney from Liveable Bristol

Residents' life expectancy improves because the air is cleaner and they walk and cycle more. High streets in Liveable Neighbourhoods become attractive destinations where people want to spend their time again and again, and so footfall and trade increase.
There is now a groundswell of public support for low-traffic neighbourhoods, but the council won't provide them if we don't show we want them.
So please join the organisations listed below and ask Bristol City Council to work with local people to create Liveable Neighbourhoods across the city, starting now and completing by the end of the next mayoral and council term in May 2024. We will break down signatures by postcode to show the council where there is local support.
And please join the discussion in your local Liveable Neighbourhood online group – there is one for each local area of Bristol.
There's more information on our website. Let's make Bristol liveable!"
- https://liveablebristol.org.uk...
RESEARCH
https://thebaccc.files.wordpre...
On overview: https://westminsterstreets.org... "This is such an impressive effect. In our evaluation studies we quite often see increases in active travel [walking and cycling]...
Press coverage: https://www.theguardian.com/en... "
Sustrans studies on Liveable / Low Traffic Neighbourhoods here: https://www.sustrans.org.uk/fo...

LTNs for all? An in depth study: https://static1.squarespace.co...
Impact of reducing Injury: https://findingspress.org/arti... "Inside the LTNs, injury numbers fell three-fold in the post period relative to the pre period"
Myth Busting:
(from Sustrans https://www.sustrans.org.uk/ou...)
"So here, we're busting those myths because it's important that we give low-traffic neighbourhoods a chance.


Myth: Local businesses suffer because of motor traffic restrictions
Evidence shows that those who walk to a high street spend 40% more than those who drive.
Per square metre, cycle parking delivers five-times higher retail spend than the same area of car parking.
Converting car parking spaces to a place with seating and planters where people enjoy spending time, can improvement retail performance.
A study in Leicester found shop vacancy rates were five times higher on streets with high levels of traffic.
And retail turnover in pedestrianised areas generally out-performs the spending in non-pedestrian areas (Wiggins, 1993).
Busted: Reduced motor traffic can increase the amount that people spend in their local shops.
Myth: Low-traffic neighbourhood filters hugely affect local businesses who rely on regular deliveries made by a larger vehicle
Direct access to all properties is maintained. You may just have to take a slightly different route to get to some properties or businesses.
For businesses, this can be an opportunity to reduce the frequency of deliveries they receive.
Or they can change the way they make deliveries to a cleaner mode of transport for example by using a cargo bike.
Busted: You still have easy access to properties and business in a low-traffic neighbourhood.
Myth: Blue badge holders aren't allowed access to low-traffic neighbourhoods
All residents are able to access their home by car as will visitors, and this always includes blue badge holders.
Deliveries from outside the area and service vehicles such as waste collection trucks will also have access but their routes may need to change.
The aim is not to remove all traffic completely, but to reduce the number of vehicles using the roads.
By encouraging those residents who are able to walk, wheel or cycle to do so should mean quieter streets for everyone.
And this includes those who need to make any essential journeys by car.
Busted: You can still access your home by car. This includes anyone with a Blue Badge and visitors to your house.
Myth: Having a car gives people, particularly those who have mobility issues or are worried about using public transport, more independence
Data shows that people feel walking and cycling give them more freedom and independence than driving.
Walking and wheeling are the most commonly used mode of transport for disabled Londoners.
For example, the proportion of disabled Londoners who drive a car to get around London is 28%, compared to 45% for non-disabled Londoners.
Outdoor spaces free from traffic are vital to maintaining good mental and physical health.
Research shows that those who regularly walk and cycle have a significantly lower risk of feeling stressed, anxious and depressed.
Busted: Being able to walk, wheel or cycle more of your every day, shorter trips can give you more independence and are great for your mental health.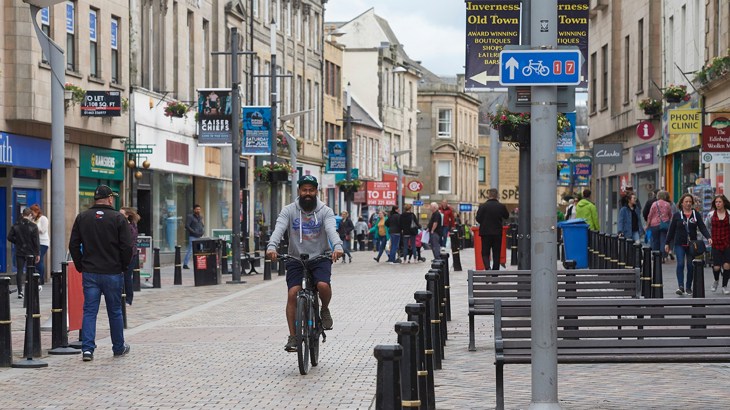 Evidence shows that those who walk to a high street spend 40% more than those who drive.
Myth: Closing roads to motor vehicles moves traffic to adjacent roads and causes gridlock
In the long-term, low-traffic neighbourhoods have created a reduction in the overall amount of motor traffic.
The increased congestion that can be seen in the first few days or months was a temporary effect.
Previous studies show that measures used in low-traffic neighbourhoods such as installing planters or bollards can change how people drive their cars.
Some people stop making particular trips, combine multiple trips into one, travel at a less congested time, or switch to public transport, walking or cycling.
For example, in a new low-traffic neighbourhood in Walthamstow Village, the number of cars using the main roads in the area did initially increase by between 3% and 11%.
But the number of vehicles on residential roads also decreased by 56%.
This means that across the overall area, there are around 10,000 fewer vehicles every day, an overall reduction in traffic of 16%.
Over time, traffic levels have started to fall back to previous levels on main roads too.
This is called "traffic evaporation" and has been observed schemes across the world.
Busted: Low-traffic neighbourhoods can help reduce the overall amount of motor traffic in an area.
Myth: Emergency services are affected by low-traffic neighbourhood measures
It is vital that emergency services are able to quickly and easily access streets.
During the design phase of the low-traffic neighbourhood, the emergency services (ambulance, police and fire brigade services) have the opportunity to feed into the design.
This is to make sure they can still access the area.
Local authorities should continue to work together with the emergency services in relation to existing and future low-traffic neighbourhoods.
Busted: Emergency Services will still have quick and direct access to streets in a low-traffic neighbourhood.
LATEST UPDATE 19-2-2021:
Liveable Neighbourhoods Supporters Meeting 3rd and 5th March
During this meeting we will update you on our progress so far as we move towards this year's Mayoral elections. We to come up with some strategies to work with other organisations to achieve our aim of 'Liveable Neighbourhoods across the city by 2024'.
Key objectives of the meeting will be:
Update supporters on our progress so far and our understanding of the council's approach to Liveable Neighbourhoods.
Explore how we make best use of the supporter base to raise awareness around the campaign by engaging with local and city wide community groups.
Ask for support to recruit volunteers for local (ward level) working groups
There are two dates for this meeting - Wednesday 3rd March at 7pm and Friday 5th March at 1pm. Please join whichever meeting suits you best.
To book for the meeting on the 3rd please click here, for the 5th please click here.
Campaign Progress
Bristol City Council are starting to work on their Liveable Neighbourhoods Strategy and recently members of the transport team shared this briefing with councillors and other officers. We have provided feedback and suggestion to help them with the development of this strategy which will be written in Autumn 2021. To read the document please click here.

We are delighted that both the Brislington and Southville & Bedminster groups have now held their second meetings to work on strategies to push for Liveable Neighbourhoods in their respective wards.

We are now looking to co-organise online meetings with local community groups to spread the word and to establish similar, local working groups to push for change in their ward. Please reply to this email to discuss organising a meeting.

Do you have content writing and/or PR experience?
Could you help with social media, writing blog pieces, developing a monthly newsletter?
Bristol Council consult on neighbourhood schemes

Bristol City Council are nearing the end of consultation on changes to 12 neighbourhood roads. These changes range from popular local high streets to current 'rat runs' in local neighbourhoods.
The remaining open consultations are Mina Road and Redcliff Mead Lane.

Please respond to the consultations to ask for safer environments for the most vulnerable in society; older and disabled residents and children. Improvements to these locations are the start of efforts create healthier neighbourhoods in Bristol.

To complete the consultations please click here.
Liveable Neighbourhoods News
Bristol Councillors call from Liveable Neighbourhoods to reduce through traffic caused by the CAZ.
Concerned councillors have asked Bristol City Council to accelerate its roll out of Liveable Neighbourhoods to deal with what they they feel will be an increase in through traffic in residential areas by people trying to avoid the CAZ.
We are pleased to see that this article refers to CAZ income being ringfences for Liveable Neighbourhood development funding.
To read more please click here.

Active Travel: Designing for a Climate Emergency
How can cities hit their clean air targets and reduce carbon emissions?
Amidst the devastation of the pandemic, have we caught a glimpse of a future with less reliance on the car and a shift towards cycling and walking?
Speakers include Sheffield's Walking and Cycling Commissioner along with Bristol's Transport Lead, Cllr Kye Dudd
To book please click here.

Low Traffic Neighbourhoods and active travel schemes do not delay ambulances, trusts confirm.
Low-traffic neighbourhoods, popup cycle lanes, widened pavements and other walking and cycling schemes introduced in response to the Covid-19 pandemic have not hindered ambulance response times, a series of freedom of information requests has revealed. To read more click here.
Low Traffic Neighbourhoods Explained
This excellent two minute video by Greenpeace discusses what a Low Traffic Neighbourhood is and why they are so important to develop healthier, more child friendly residential streets.