***News! Free adult cycle sessions now available thanks to Travel West and Bristol Council. More information here.***
Lessons for children
Bike Bristol specialises in teaching children to cycle! We want children to have the chance to learn to ride a bike with their friends and learn to love cycling! Our cycling lessons build their confidence and skills in a fun learning environment that they will enjoy.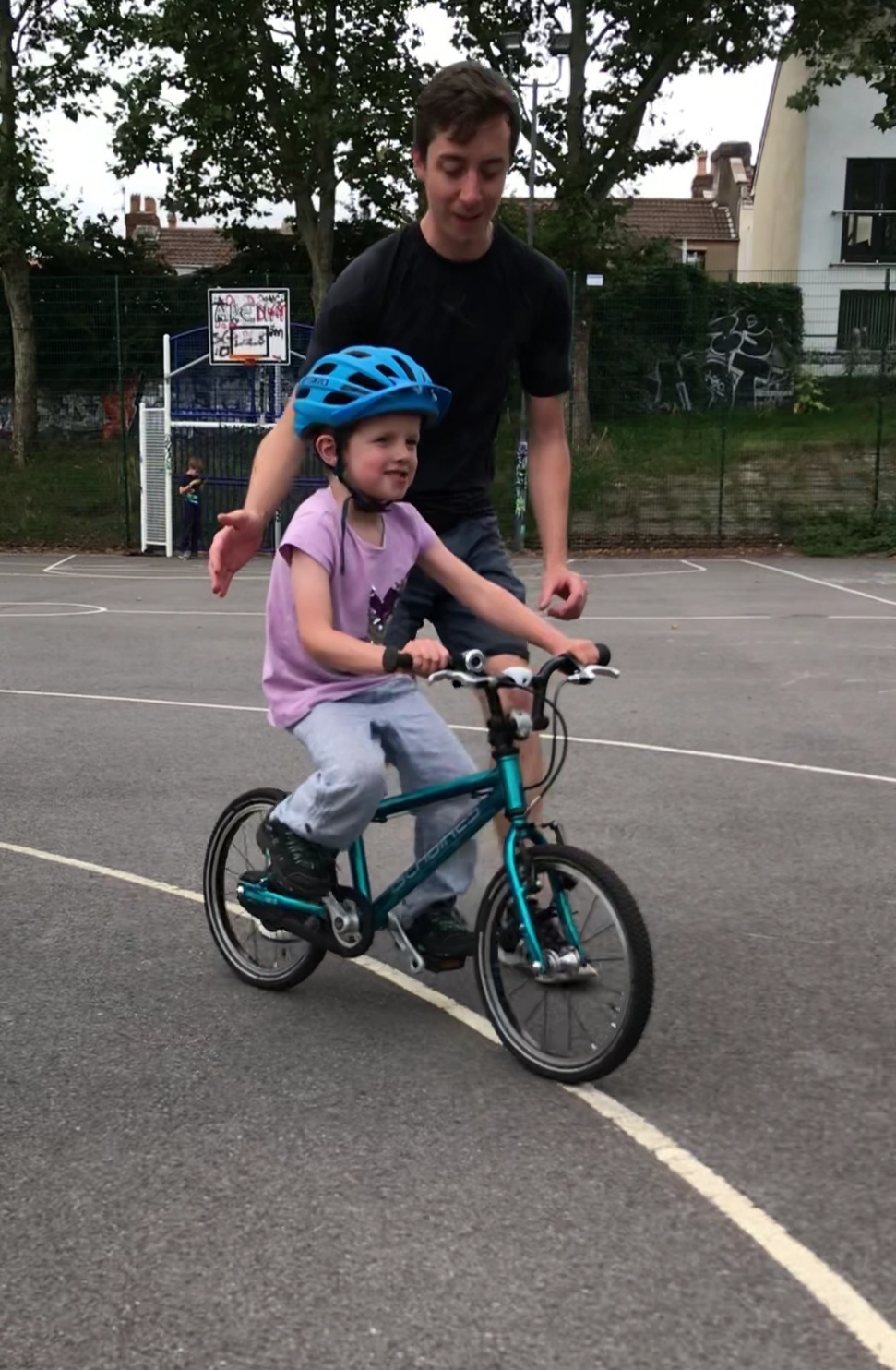 We offer 3 types of course for children to take them from complete beginner through to competent cyclist. Our three courses are Learn to Balance, Learn to Ride and Cycle Skills.
We want to welcome all children and are able to adapt learning styles and approaches to suit thier needs. We endeavour to make the lessons as inclusive as possible. We haven't yet got any "all ability cycles" but this is something we'd like to have in future.
We teach at St George Park. Get in touch to book a private lesson.
For group bookings including schools, scout groups or home education groups find out more here.

Learn to Ride
Learn to ride your bike!
By using tried and tested techniques, we can get your child cycling! An instructor will help develop balance and control while building confidence and making the lesson encouraging.
Our 1 to 1 lessons allow for lots of support and fast learning to take place, where the likelihood is we can get a beginner cycling in their first hour, but sometime more. This can depend on previous experience and whether they have used a balance bike before. A combination of a good bike (bikes can be loaned for the lesson) and a skilled instructor are key to learning to ride.

Lessons are run from St George Park which can be booked on weekdays or weekends. Please see the Facebook Page for upcoming events, training dates and availability.

Prices

Lessons are taught 1 to 1 and cost £35 for 30 minutes or £45 for an hour.

2 siblings can be taught together for an extra £10.
Upcoming Courses

Learn to Ride is bookable throughout the week, after school, weekends or holidays. Please get in touch to arrange a lesson

Cycle Skills

Cycle Skills
Cycle Skills is all about developing the awareness and skills in order to have the confidence to ride safely whether in the park or on the road.

The training is delivered by a qualified cycling instructor, find out more on the About Page!
The course is based on the National Standards for Cycle Training and very similar to Bikeability (the new version of cycle proficiency)

Level 1

The first stage (level 1) involves training in the park; practicing signals, braking and gears. They should have excellent bike control before going on the road. This course enables participants to build up their riding ability and develop confidence.

Level 2

Level 2 is out in the road. This is founded on the Department for Transport standard for safe cycling. We will look at simple journeys up and down a quiet roads, moving into junctions as they develop. They will develop their awareness and understanding of traffic, allowing them to make good decisions. They should be able to make short journeys on quiet roads without supervision, giving them the potential to ride to school or to see friends!

Level 3

Level 3 is for older children, and adults. Depending on their progression the instructor will be able to take them on busier roads. More advanced lessons will allow us to work on their school journey or look at how they would navigate busy roads near home while developing their route planning ability. This is the highest level, allowing them to gain the confidence to ride on all sorts or roads and know which areas to avoid! they will have to have completed Level 2 to start this course.

Prices and Dates

1 to 1 bookings are £45 an hour, £65 for 1 hour 30mins or £80 for 2 hours.

Groups of 2-4 children are £25 per child per hour, 5-6 is £20 per child.

Cycle Skills is bookable throughout the week, after school, weekends or holidays. Please get in touch to arrange a lesson!

Bike Club
Bike Clubs!
Bike Clubs are an excellent way to build up cycling skills and have fun! Clubs are based in St George Park and will engage children with games and challenges that help them learn. We will use a flat training area or explore the paths winding though the park depending on the group. This allows children to develop bike control, braking, use of gears, signalling and sharing paths with other users!
This is a really exciting way for kids to develop their cycling. It will equip them with valuable skills to help them control their bikes which is essential for any future road cycling. Upon completion of two clubs and demonstrating their ability, attendees will be awarded a Skills Certificate!
There are 2 types of Bike Club: beginners or intermediate.
Beginners bike club
This club if suitable for children who can cycle already, but are still at a basic level.
Perhaps they are a bit nervous or need to work on general control. This club will develop skills and confidence with basic maneuvers. We will play games and improve their ability in a fun environment!

Dates, Times and Prices
Please see Bike Clubs page
Adult training
We offer training to complete beginners who have never ridden a bike in addition to more advanced on-road training to tackle Bristol's busy roads with confidence!
Free adult cycle sessions now available thanks to Cycling UK. More information here.
Learn to Ride - Adult
A skilled instructor can finally get you riding a bike!
Make the leap to learning to ride a bike in the confidence that you are in safe hands. Our success rate is extremely good and could have you cycling in one session! By using progressive techniques you can build up balance control and confidence. Before you know it you'll be on the road!
Lessons are £45 for an hour - bikes available to borrow for an extra £5
Cycle Skills sessions are also available for adults, to develop skills for the road.
On-Road Training
Bike Bristol can help you gain confidence for cycling around Bristol. By using a progressive training program, we can build up the skills necessary to safely ride in the city. Our training is based around you - whether you just want to learn how to get down the road, or navigate busy junctions in rush hour, in the knowledge you are cycling right!
Prices:
1 hour Learn to Ride for beginners Inc. bike hire is £45 per hour.
On road training including level 1,2 and 3 is either £45 for 1 hour, £65 for 1.5 hours or £75 for 2 hours.
2 x 1.5 hours is our most popular booking as this gives us a decent amount of time to complete level 1-3. Two 1.5 hour sessions can be booked together for £115 (10% off)
Learn to Fix - Bike maintenance courses
Basic and intermediaste courses to help you learn the skills to repair and maintain your bike.
Learn to Balance (Balance Clubs!)
Learn to Balance
We offer weekly clubs, where children are able to build up balancing skills on balance bikes! These balance 'clubs' are fun and a great way to make friends.
Progressive skills are taught so children develop motor skills in a fun way using games and challenges. This makes it much easier to ride a bike when they're ready! This is an excellent first step to getting your child cycling.
Prices
Lessons are £7 for a 30 minute club when you book 4 clubs or £9 for a drop in lesson.
First lesson is just £5
When you book and pay for 4 clubs, you can use these when you like, they don't have to be successive weeks! That way if you miss one you haven't lost out, and can carry your booking over to the next club.